Locations & Hours
This site includes many functions that allow you to work with us from your office or home. Of course, it's sometimes still necessary (or preferred) to conduct business in-person. That being said, we've provided the necessary information to locate us or make contact with one of our representatives.
SGP is conveniently located just off I-75 in Dalton, GA about 30 minutes south of Chattanooga, TN and about an hour north of Atlanta.
Please send all correspondences to our PO Box and all parcel deliveries to our physical address.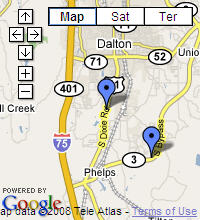 PO Box 3247, Dalton, GA 30719
265 Kraft Drive, Dalton, GA 30721

Phone:(706) 278-1970
Fax:(706) 226-8514
Toll-Free:(800) 593-1970
E-mail:info@sgpgraph.com
Monday - Friday, 8:00 am - 5:00pm After hours by appointment